How Saraki and friends will plunge Nigeria into its next recession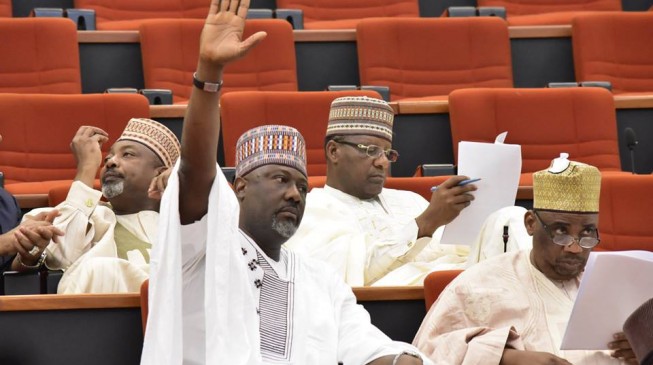 Just in case you have not got anyone real enough to tell you the truth, here it is — for free. The chamber you lead is on its way to plunging Nigeria into its second economic recession in three years, and here is how.
When Nigeria was officially announced to have got into an economic recession in August 2016, I ran a study on all economic recessions in the history of Nigeria and the United States of America. One thing was striking: the US has had more recessions on the average than Nigeria has. Nigeria has been through seven economic recessions in its 56-year history, and World Bank data show that the current economic recession is raising that tally to eight.
According to National Bureau of Economic Research (NBER), the private firm known for monitoring recessions in the United States, the world's largest economy has been through recession, at least 49 times in 240 years. In context, US has had at least, one recession in 5 years, while Nigeria, on the average, records one in seven years.
This goes on to show that recessions are normal phenomena, even for the best economies in the world. But the reason for every recession must be well understood, and avoided for years to come. When in period of boom, countries with foresight prepare for the days of bust. They save, they build, the invest in the kind of infrastructure and fiscal buffers that can keep them afloat when the rainy day come.
WHAT HISTORY TEACHES ABOUT NIGERIAN RECESSIONS
According to World Bank figures, Nigeria's first economic recession is what everyone will call a pardonable recession; the nation experienced an economic crunch between 1966 and 1968, which was as a result of the tensions around the nation's civil war which ran through 1967 to 1970.
After the war, which claimed between one to three million lives, Nigerians returned to their quarters, everyone knew the next thing for a nation as this was to build up itself from the relics of war. By 1970, the economy recorded growth of 25 percent – the highest in the country's history throughout the 20th century. Within these period, oil prices declined by over 12 percent (1966 to 1970) yet the economy grew massively. A nation was riding on the wings of her industry and the brains of a teeming youth population.
From 1970 to 1973, oil prices soared from $3 per barrel to $11 per barrel on the global market. Petrodollar began weaning Nigeria off Agriculture. In 1975, oil prices dropped by a few cents, from $11 to $10.43, but Nigeria could not weather the storm, which was accompanied by some political undercurrents. The nation fell into its second recession.
Within 1978 and 1983, Nigeria was at the mercy of falling oil prices and political instability. The country therefore recorded five annual gross domestic product (GDP) decline. Some economist argue that the country plunged into a depression at the time.
From 1984 to 2016, Nigeria's economic recessions had always been tied to one oil slump or the other. Once, there is an oil slump, a recession is just a few months away — with the exception of 2008, which was averted by the fiscal buffer built by the Olusegun Obasanjo administration. This is the story of Nigeria's recession.
SARAKI'S STROLL INTO A RECESSION
With a clear history and vivid pattern of Nigerian recession, the easiest thing for Nigeria to do is to avoid wars, political instability and pray against an oil slump.
As a nation, we can be resolute in our resolve to avoid wars, we can be determined to avert political instabilities, but we have no control over oil prices on the international markets!
In view of this, and the lessons from 2016, Udo Udoma's ministry of  budget and national planning worked with an oil benchmark of $42.5 per barrel in planning the 2017 budget. The ministry, in conjuction with the private sector went a step further to strategically craft an economic recovery and growth plan, with the view of recording economic growth in the territories of seven percent by 2020.
The ministry engrafted all  ministries, agencies and departments of government into a plan that seeks to move Nigeria away from its oil addiction, and redirect the country's recession pattern. But Saraki and friends do not see the urgency of now.
The senate raised the 2017 oil benchmark from the prudent $42.5 by the Udoma's ministry to $44.5. With an increase in US shale supply on the global market, there are fears that oil prices may fall below $44 before the end of 2017. This will drive the nation's budget further into huge deficit territories.
As if that were not enough, while the nation was being distracted by the certificate scandal of one of Saraki's closest "friend", the senate also decided that the 2017 budget which was presented in December 2016, will not be passed until May — nearly six months after presentation.
Saraki and friends, who are also expected to be deliberating the speedy passage of Petroleum Industry Governance Bill (PIGB, anaspect of PIB) are busy debating the regalia of the customs boss, who is enacting a controversial law that makes life less desirable for the average Nigerian.
Need I speak about the laws to improve the ease of doing business in Nigeria? Since it does not "embarrass" Saraki and his friends, it does not need the speed used in "dealing" with Ali Ndume, who was suspended for embarrassing the King and his friends.
Here, there is no middle ground. If this senate does not help Nigeria with the kind of laws and urgency that can help us move away from oil, then we would, once again, be victims, strolling with eyes open into an oil-driven economic recession.