Searching for the Nigerian identity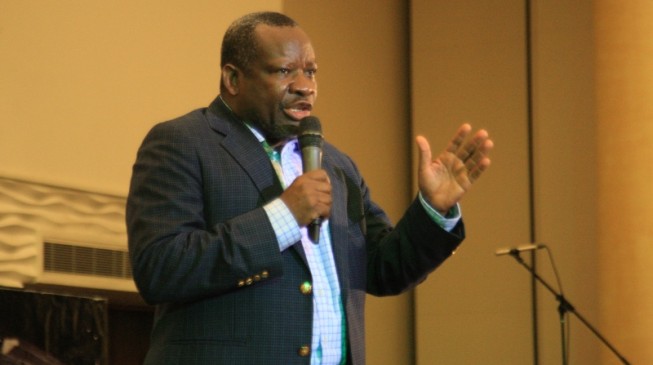 Is Alhaji Muhammad Sanusi II, the Emir of Kano, first and foremost from Kano state? Or is he first a northerner, a Muslim or a Fulani? Or should he be identified as a Nigerian before anything else? It's a simple question, very simple question. The answer should even be simpler. But it is complicated. It depends on the issue at hand. It depends on the point you want to make, the argument you want to pursue.  To answer the question more directly, Sanusi can be described as a Muslim, a northerner, a Fulani, an "indigene" of Kano state and a Nigerian. But if you think it is that simple, I would love to refresh your memory as we discuss the issue of identity politics in Nigeria today.
When Sanusi was appointed governor of the Central Bank of Nigeria (CBN) in 2009 by President Umaru Musa Yar'Adua to replace Prof. Chukwuma Soludo, an Igbo from Anambra state, the controversy that followed opened my eyes, yet again, to the politics of ethnic identity. Yar'Adua was accused of being "hell-bent" on northernising federal appointments in disregard of the plurality of Nigeria. Senator Ikechukwu Obiorah, representing Anambra south, wrote to Yar'Adua, advising him on the need to adhere to the principle of "federal character" in appointing a new CBN governor, noting that already, two key ministers in the finance sector were from Kano State .
The minister of finance then, Dr. Mansur Muhtar, was from Kano, while the minister, National Planning Commission, Dr. Shamsuddeen Usman, was also from Kano. That is where the complication starts. On what basis should "federal character" be applied? Is it by state, sectoral, ethnic, religious or geopolitical configuration? By the 1999 Constitution, the principle is applicable to only the states. In other words, the constitution does not recognise Hausa, Igbo, etc, as units of the federation. The constitution does not recognise the six geopolitical zones. Hence, it says ministers must be picked from the 36 states, not from ethnic groups or geopolitical zones.
However, the Federal Character Commission, the body constitutionally charged with enforcing the principle, came up with guidelines that recognise geopolitical zones but are silent on ethnic groups. Besides, the constitution does not define Nigeria by sectors and sub-sectors – such as finance, sports, education, etc. So, Yar'Adua could hardly be faulted for appointing a northern Fulani Muslim Nigerian from Kano state as CBN governor — since the constitution makes no reference to sector, religion, region or ethnicity in balancing federal appointments. It also does not say one ministerial or sectoral position is more "juicy" or "important" than the other.
I have chosen to briefly discuss the issue of "Nigerian identity" this morning in honour of my friend, brother and mentor, Oronto Natei Douglas, who died exactly two years ago today. OND  was special adviser on research, documentation and strategy to President Goodluck Jonathan. He battled cancer valiantly for almost seven years. At some point, we thought he had won the war. He fought tooth and nail, like a gallant soldier, till the very last minute. Of all the victims cancer has snatched from this world, in Oronto it met a tough customer who went down fighting. A day to his death, and down to his bones, he still walked round his residence and used the toilet without help.
As friends and associates converge on Abuja today to celebrate his life and times, I recall with nostalgia my regular conversations with him on Nigeria's nationhood during our friendship that spanned nearly 20 years. Our takes on the route to nation-building were slightly different but we discussed it with so much passion that you would think we fundamentally disagreed. My viewpoint was, and remains, that we should first be Nigerians before we are Tiv or Ibibio, while his view was that we should first be Tiv or Ibibio before we are Nigerians. At first, I thought we disagreed; later I realised we had the same goal in mind: building a strong Nigerian identity.
I take liberty to paraphrase his central argument thus: "Today you would call me an Ijaw. But maybe some 50 years ago, you would not call me an Ijaw. You would call me Ogbia. The Ijaw ethnic identity is a stage in the evolution of the identity of the riverine communities with common ancestry and culture. We identified ourselves differently in the past but today we are comfortable with being called Ijaw. This is basically the building block. The Niger Delta identity is getting formed now. Then it will become the building block of a strong Nigerian federation. So you move from Ogbia to Ijaw, then to Niger Delta, to Southern Nigeria, and then we evolve a new, strong Nigeria."
Oronto's argument was that we needed a bottom-to-top approach to build a strong Nigerian identity. He wanted strong ethnic identities first, to eventually fuse into "One Nigeria". I wanted a top-to-bottom approach. I wanted a strong "One Nigeria" identity that will permeate from the national level to the sub-national level. As things stand, our ethnic identities have always been stronger than our "Nigerian" identity. The ethnic identities have been so formed and reinforced from the colonial era till now, and it is practically impossible to create a Nigerian identity that way. At the slightest disagreement, we shout: "To your tents, O Nigerians!"
It is not as if my own preferred approach of integrating Nigeria from "top-to-bottom" has worked wonders. Federal character, quota system and power rotation were developed to create a sense of "oneness" and to avoid segregation and domination. Unfortunately, as you attempt to solve one problem,  you may end up creating another. When Sanusi was appointed CBN governor in 2009, the issue shifted from competence to ethnic and religious balancing. Hence, neither Oronto's preferred approach nor my chosen option can effectively provide the solution to our inability to evolve the "Nigerian first" identity in over 100 years. We are all still Tiv or Ibibio before we are Nigerians.
The issue of national identity apart, OND believed that the dream of building a new Nigeria would never be realised without social justice. He believed in evolving a federalism that would allow each region to determine its sub-structure within the national structure. As leader of the Chikoko Movement — "the pan Niger Delta resistant group" — in the late 1990s, he popularised the term "resource control" before the politicians appropriated it. He would say: "Resource control does not mean we want to keep 100% of the oil revenue. Rather, it means the people of Niger Delta will determine the terms and conditions under which their resources are explored."
By that, he meant the oil-producing (he called it "oil-bearing") region could still keep only 13% as derivation but it is not the federal government that will be awarding the oil blocks. Each state should have the power to negotiate with the oil companies, build in their interest in terms of "environmental justice" and equity, award the oil blocks, and then remit the necessary taxes and royalties to the federation account. The current system places all the powers in Abuja, leaving the communities to accept whatever has been agreed on their behalf  by the "distant" federal government. The communities are effectively excluded even as critical stakeholders.
At different times, Oronto tried to persuade me to accept political appointments. I explained to him that by nature, I am not suited for public office. He agreed with me and came up with his own thoughts. "I was an activist before I joined government," he said. "As an appointee of President Jonathan, I am still an activist seeking to change things from the inside. In your own case, you can remain outside government and still influence policy through your ideas that you put out every week. That is another way of making impact. There are those who would use political power to make impact by contesting for elective offices." I completely agreed with him.
I remember OND today with a mixture sadness and joy. Sadness because we helplessly watched him die. Joy because he was such a wonderful soul. He was so selfless and patriotic. He had a most diverse inner circle of friends — you could never describe him as a bigot or ethnic chauvinist. He was generous to a fault. He was certainly one of the most loyal aides of President Jonathan. He loved Jonathan like his own soul. As close as we were, he never stopped me from criticising Jonathan, yet he never spoke one bad word about the president in my presence. I will always remember Oronto as someone who passionately believed in the Nigerian project. Inspiration.
AND FOUR OTHER THINGS…
MENINGITIS AND GOD
Alhaji Abdul'aziz Abubakar Yari, governor of Zamfara state, says all diseases are from God and the meningitis that has claimed hundreds of lives in the past few weeks should be understood within that context. In other news, cholera recently claimed 80 lives in 14 local governments in Zamfara — in another divine punishment under Yari. Bandits have killed no fewer than 1,000 herders and farmers in the last one year in Zamfara — in yet another divine punishment under Yari. To escape the punishment, Yari is either relaxing in Abuja or flying to Saudi Arabia for umrah. He avoids Zamfara like a plague while gulping all the milk and the honey of office. Divine.
ANTI-GRAFT SETBACK
In a spate of four days, the federal government lost four cases in court in its anti-graft campaign. One thing common to all the cases is that the evidence was not strong enough to convict the suspects. That is, the cases were not proved beyond reasonable doubt. You can look at it several ways. You can say "corruption is fighting back". You can also say it takes more than media trials to win a case in court. Many Nigerians have been wondering why the monies recovered so far have not been spent by the government. The truth is: it is one thing to recover money by state might, it is another to prove in court that a crime has been committed. Government must re-strategise. Diligence.
OGUN THUGS
I was ambushed by revenue collection thugs of Agbara/Igbesa LGA, Ogun state, on Friday. This brought home to me, once again, the terror unleashed on ordinary Nigerians by state agents everyday. I was accused of parking in a no-parking area (trust me, there was no such sign there and I was even sitting in my car). After I refused to pay a bribe, I was taken to a corner and fined N16,000, which I promptly paid and collected my receipt. My plight paled into insignificance when I saw the way other motorists were being humiliated by those thugs. I held back my tears on seeing a nursing mother, with her sick child, being rough-handled. What a society we live in. Primitive.
DANGOTE AT 60
As a primary school boy, Aliko Dangote used to buy sweets and biscuits from his pocket money. No, he didn't eat them like I did mine. Instead, he would give them to the maiguard at their house to help him sell. The maiguard would sell and give Dangote the proceeds, and the young boy would "restock" the tray. How on earth would the maiguard know that the little boy was going to become one of the biggest traders, and later biggest manufacturers, out of Africa someday? Coming from a wealthy family is not enough — you need that extra bit to be outstanding. As Dangote marks his 60th birthday on Monday, I wish him long life and good health. Extraordinary.