Trump 'agrees to sell' 12 fighter jets to Nigeria at $600m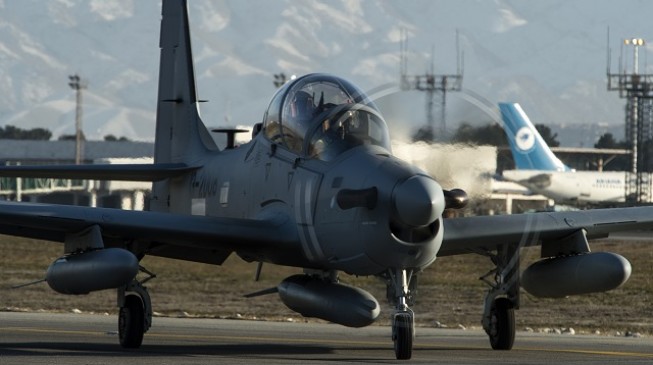 Quoting some officials, the newspaper said congress is expected to receive formal notification of the deal within weeks.
Once congress is officially notified of the sale, lawmakers who want to derail the deal have 30 days to pass veto-proof legislation.
President Barack Obama had planned to approve the deal amid seeming opposition.
In September, Tom Marino, a US congressman, had written a letter to John Kerry, former US secretary of state, urging his country to withhold the assistance rendered to Nigeriabased on the "autocratic tendencies" of President Muhammadu Buhari.
Amnesty International had also accused Nigeria's military of human rights abuse.
The government of former President Goodluck Jonathan met a brickwall while trying to purchase arms from US.
The Buhari administration had taken off from where its predecessor stopped, but still did not make headway.
Many had concluded that the deal would not see the light of the day under Trump, but things took a new turn when American leader had a phone conversation with his Nigerian counterpart who was on a UK vacation in February.
According to Femi Adesina, spokesman of Buhari, Trump had promised to assist Nigeria with weapons to fight insurgency.
Adesina also said the US president invited Buhari to the White House.
In the arrangement under the Trump administration, Nigeria will be allowed to purchase up to 12 Embraer A-29 Super Tucano aircraft with sophisticated targeting gear for nearly $600 million, Washington Post quoted an official as saying.
The newspaper said the officials were not authorised to discuss the terms of the sale publicly and requested anonymity to speak about internal diplomatic conversations.
Though Trump has reportedly made clear his intention to approve the sale of the aircraft, the National Security Council is said to be working on the issue.
Military sales to several other countries are also expected to be approved but are caught up in an ongoing White House review.
The A-29 sale would improve the US relationship with Nigeria.
The aircraft deal also would satisfy Trump's priorities to support nations fighting Islamic uprisings, boost US manufacturing.
The A-29 aircraft, which allow pilots to pinpoint targets at night, are assembled in Jacksonville, Florida.
"It's hard to argue that any country in Africa is more important than Nigeria for the geopolitical and other strategic interests of the U.S.," said J. Peter Pham, vice president of the Atlantic Council in Washington and head of its Africa Center.
In mid-February, Ben Cardin, a lawmaker of the Democratic Party, said he was "leery" of the sale because of the Nigerian military's impunity.
But this week, Cardin said he was not trying to block the deal.
"Ultimately we hope that the sale goes forward," he said. "But there is progress that needs to be made in protecting the civilian population."