Amaechi's spokesman tackles Fayose's aide over $50m recovered by EFCC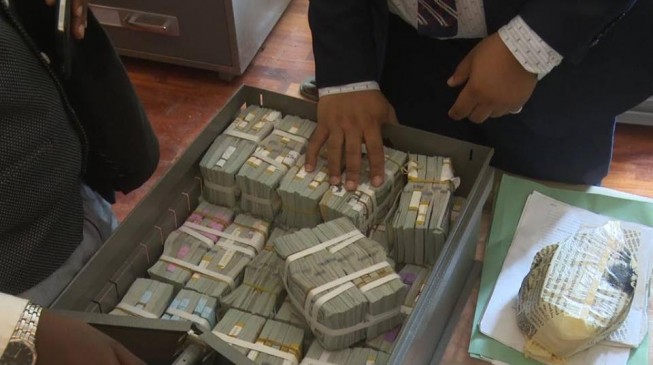 David Iyofor, media aide of Rotimi Amaechi, minster of transportation, squared off with Lere Olayinka, spokesman of Ayodele Fayose, governor of Ekiti state, over the$50 million recovered by operatives of the Economic and Financial Crimes Commission (EFCC) in lkoyi, Lagos.
The anti-graft agency had released pictures of the money, saying it was uncovered in a fire proof safe at Osborne Towers in Ikoyi.
The identity of the owner was not revealed, leading to different reports.
Solomon Adeola, senator representing Lagos west; Adamu Mu'azu, former chairman of the Peoples Democratic Party (PDP); and Esther Nnamdi-Obue, ex-managing director of Petroleum Products Pricing and Marketing Company (PPMC), were all linked to the money, but they denied ownership of it.
However, Olayinka claimed that the money had been traced to Amaechi, and Iyofor debunked the claim describing him as a "big liar".
"Just hearing with one ear that Amaechi may have link to the House," Olayinka wrote on Twitter, and Iyofor fired back: "Liar. You better hear well before your ear sends you to prison."
Not deterred, Olyinka wrote: "Cover up game has started! Rotimi Amaechi owns the house."
Iyofor's responded: "Where is your proof? If you think you can link Amaechi to the house and money by tweeting this rubbish, then you need to have your head examined.
"Big Liar! Demonic Liar! Listen, you disgusting pig, Rotimi Amaechi is not connected or linked in anyway whatsoever to the house &/or money."
While the rage over the significant amount continues, Nigerians are deeply interested in knowing the individual behind the hidden treasure.