Chibok mothers clash with police at Aso Rock entrance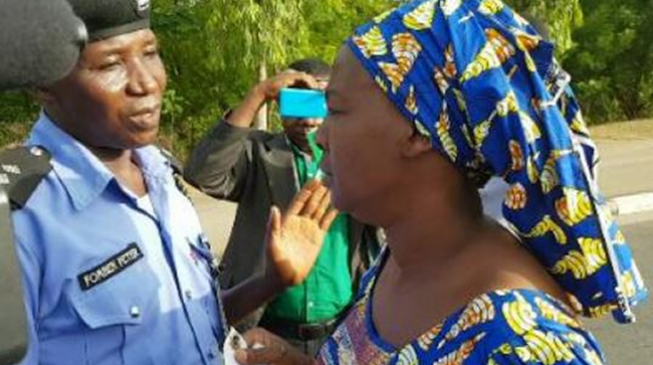 There is currently a showdown between policemen and mothers of some of the girls abducted from Government Secondary School, Chibok, Borno state, on April 14, 2014.
The women, who moved to the presidential villa from Transcorp Hotel, Abuja, where the first annual Chibok Girls' lecture held, had insisted on seeing President Muhammadu Buhari to demand the whereabouts of their daughters.
But the policemen attached to the villa prevented them from going into the villa. The defiant women protested, and a shouting match ensued.
"If you give me my baby now, I will go back," Esther Yakubu, one of the mothers, said.
An officer ,who spoke in a calm manner, had asked her to exercise patience, but the aggrieved woman fired back:
"Which patience do you want me to exercise? He is celebrating the the graduation of his own children, I also want to celebrate the graduation of my children.
"When a similar incident happened in Lagos, they rescued them because they are children of rich men.
"I want to talk to the president myself as a mother. My daughter is still in captivity, I can't leave without seeing the president today."
After the hot exchanges at the villa entrance, a man who introduced himself as John Oyegun, personal assistant to the president on protocol, met with the women.
Oyegun also insisted that the women would not see the president, but told them in a calm manner.
"The president is indisposed at the moment", he said.
The woman then asked to see the president's wife or Yemi Osibanjo, the vice president.
"The vice-president is not in  at the moment, and you can't see the wife now because she is not expecting you", Oyegun said.
At this point, Yakubu fired up again: "If I want to see my mother, I can't write an application to her before I see her. She is also my mother," she said.
"We saw the president last year and he said he will set up a committee on the Chibok girls issue but he is yet to do that. Just imagine if it is your child that is in detention."
But Oyegun refused to be moved: "If you want to see her, you can come on Tuesday or write to her, that is the normal protocol," he said.
"We all are feeling the pain but what we are saying is, you have to follow due process. Even if she says, we should bring you, the security agencies will not allow that.
"The president is not sleeping over this matter. The military are negotiating on the issue. So I will take this matter to Mr. President."
Yakubu Kabu, father of one of the girls, expressed his sadness at the "reckless manner" in which the federal government had been handling the plight of the missing girls.