El-Rufai: I have no problem with Dogara, he is my kid brother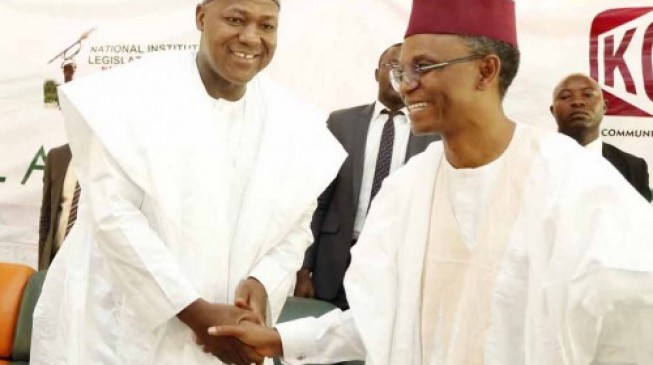 Nasir el-Rufai, governor of Kaduna state, says he has no problem with Yakubu Dogara, speaker of the house of representatives, whom he described as his kid brother.
Both men have been in the news since last week when el-Rufai challenged the national assembly to make its budget public.
Dogara had dared governors to publish their security votes and funds allocated to local governments.
Three days after this, el-Rufai accepted the challenge and released details of his expenditure, and Dogara also made public his pay slips for six months. The exchange between the politicians continued until Thursday.
Speaking with state house correspondents on Friday, el-Rufai said he had nothing personal against the speaker of the lower chamber of the national assembly.
He said every Nigerian had the right to tell the national assembly to open its budget and that he made the call in the interest of the country.
"I have no problem with the speaker, he is my kid brother. He respects me and I respect him," he said.
"It is in the national assembly's interest to actually publish its budget because there are rumours of bogus amounts of money that they are getting which I do not believe is true.
"I think that the best way to kill that rumour is to publish the details of their budget but some people took exception to that call for transparency and I have no apologies because as citizens we have the right to demand for transparency for how resources are being spent.
"This N100 billion or so budget of the national assembly is money belonging to the people of Nigeria and every Nigerian has the right to ask and I am exercising that right as a citizen not even as a governor."
El-Rufai said his relationship with Senate President Bukola Saraki is also cordial, explaining that his call about transparency is in the interest of Nigerians.
"I have no problem with the senate president, we worked together in the past, and I am confident that we will work together in the future in the interest of Nigeria but demand for accountability is not a problem and should not be construed to be undermining or any such thing," he said.
"It is only someone who has something to hide that will do things like that and I don't believe that the national assembly have things to hide"