EXCLUSIVE: NIA never briefed Buhari on any 'covert' projects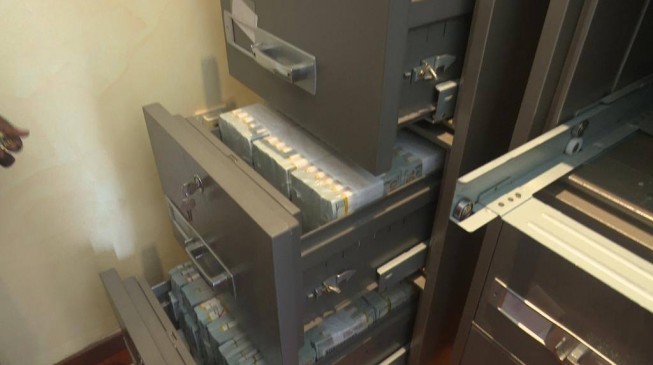 The National Intelligence Agency (NIA) never briefed President Muhammadu Buhari on its 'covert projects' being supposedly financed with the monies recovered from an Ikoyi flat, presidency sources have told TheCable.
This has further raised suspicion that the monies were being warehoused for individual use and not for official purposes.
On Wednesday, EFCC said it discovered $43.4m, £27,800 and N23.2m in a house in Ikoyi, Lagos following a tip-off from a whistle blower.
There was a flurry of speculation on who actually owns the money, with names of prominent Nigerians being mentioned.
The NIA stepped up to claim ownership, saying the funds were approved by former president Goodluck Jonathan for "covert" security projects.
However, government insiders have informed TheCable that "it is a cock and bull story".
"It is impossible, probably treasonable, that a security agency will be carrying out covert operations without the knowledge of the sitting president and commander-in-chief of the armed forces," the source said.
"The president has been in power for nearly two years now and not once did the NIA DG mention any such project to him, either at security meetings or one-on-one.
"From what we know so far, funds were indeed approved by Jonathan for the agency in late 2014. But like the monies released for Boko Haram operations, the funds were diverted for non-security use. That is why they ended up in a private residence.
"It appears the funds were diverted for the 2015 elections but some smarter guys kept part for personal use."
'SENSITIVE DOCUMENTS'
Ayodele Oke, the NIA director-general, was appointed by Jonathan in November 2013 and retained by Buhari, even though he replaced other security chiefs in August 2015.
While the Ikoyi operation was underway on Wednesday, Oke was reported to have run to the office of Ibrahim Magu, the EFCC chairman, to inform him that there were "covert" security funds in the flat being searched by the operatives.
However, TheCable understands that Oke only told Magu that there were "sensitive documents" in the house and pleaded that EFCC should abort the operation.
A security official who spoke to TheCable on Friday said "that was what gave away the game".
"Oke had never mentioned any discreet project being executed by NIA since he started holding security meetings with the president in June 2015," the official said.
"He never mentioned anything of this nature to the president in private either. For him to be coming up with this story in April 2017 — for the first time — there is a clear case of an attempted cover-up."
Gordon Obuah, the chief security officer to Jonathan from 2010-2015, died suddenly on Thursday after a "massive heart attack", leading to speculation that he might also have known about the funds.
He was being investigated separately by the DSS over security funds linked to him and had his movement curtailed by the secret police in the last two years.
UNANSWERED QUESTIONS
Several posers are being raised which further put a dent on NIA's claims of ownership.
"To start with, if the president, if the national security adviser and if other security chiefs were never aware of covert projects until now, that in itself is a big problem," another top official said.
"Second, if NIA needs such a huge amount of money in Nigeria, it has enough safes in fortified offices to keep it. It does not need an unprotected private residence. It makes no sense to keep the funds in a private residence without putting operatives on guard.
"Third, if a covert project was approved and monies were collected more than two years ago, are the projects still being executed? Why was no progress report filed with the president? Budgets are released yearly and unspent funds are retired yearly. There is also no record that the NIA sought exemption or got approval to keep the monies away from TSA."
The source said the president is awaiting reports from the national security adviser, Babagana Monguno, before taking further action.